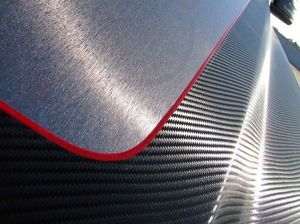 Start turning heads
! With the perfect custom graphics for your vehicle, you can go from ordinary to extraordinary in no time. Whether you want to advertise your business or letter your trucks, you can count on us for graphics and decals that are made to last.
Vehicle Wraps
are a great choice when clients want to maximize advertising space and impact. Full wraps are also great for freshening up your fleet and making them look new again. Many people have vehicles that are older and well used. Wrapping these vehicles with their freshly applied brand allows a much needed facelift and prolongs the vehicles appearance. Another note worthy benefit for a full wrap is the paint protection benefits. When wraps are applied and removed by a professional, the factory paint underneath will be left in pristine condition. 




3/4 Wraps
Budget is a major concern for our clients and we understand this. Lucky for you, we love a challenge! Whether you have a fleet that needs to be wrapped or this is your first wrap, we can find a solution. We pride ourselves on our out-of-the-box thinking and we want to exceed your expectations. Not only can 3/4 wraps save you money, but we practically wrote the book on how to make them look good!
Partial Wraps
No job is too small and partial wraps are ideal when our clients have strict budgets. We can't stress enough that even a smaller budget can help your company's presence and brand recognition. When partial wraps are done well, they will still be an effective means of advertising. Partial wraps can look especially nice on newer/cleaner vehicles that won't necessarily benefit from full coverage. If you are on the fence about getting a vehicle wrap because of your budget, give us a call. We can find a solution for you.
 
Miscellaneous Wraps
Vinyl Wraps can go much further than your traditional vehicles. If it's cool, we'll wrap it! Some of these miscellaneous projects can include: Boats, Sandcars, Baja Trucks, Motorcycles, Race Cars, RzRs, Quads,...You get the idea. We have a passion for creation – If you have an idea, we can make it a reality!

So, no matter if its:
* Cars
* Trucks
* boats
* Vans
* Bikes
* RVs
* or Trailers

We've got your covered!
Check out some of our vehicle wraps below!
click on pictures below to enlarge
Corvette Wrap From Start to Finish